Revolutionizing Energy Transition Asset Trade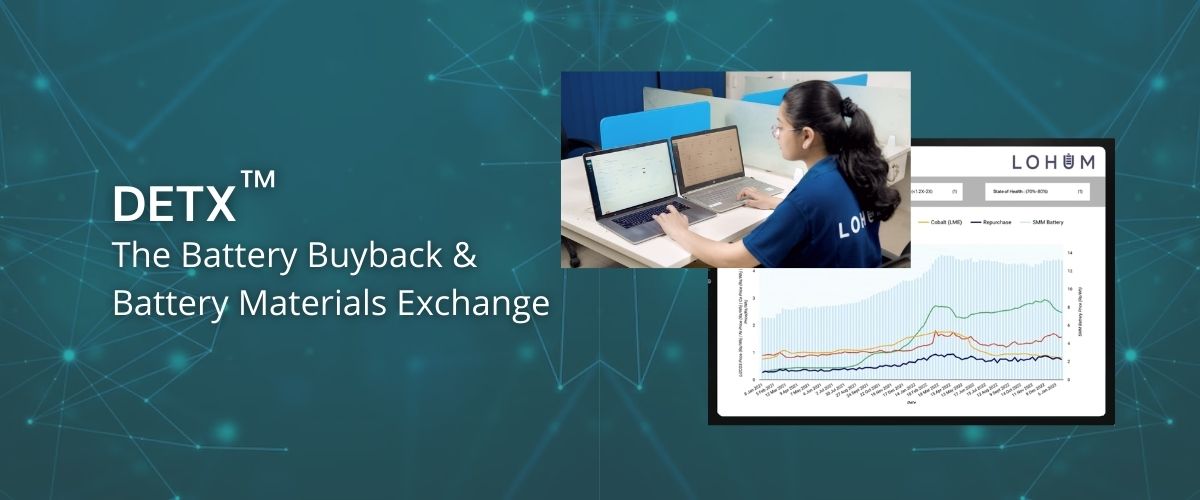 In the dynamic landscape of the clean energy transition, where the demand for sustainable solutions is rapidly escalating in a race against the depletion of finite resources, transparency and traceability play pivotal roles in the long-term viability of the entire ecosystem. At LOHUM, we are committed to reshaping the battery industry via a transformative platform to benefit all stakeholders.

Introducing the Delhi Energy Transition Exchange™, or DETX™, a battery buyback platform and battery materials exchange thoughtfully designed to revolutionize the way we trade energy transition ecosystem assets.
Unveiling DETX™ - Genesis & Ideation
As pioneers in lowering the CO2e footprint of lithium-ion batteries through integrated recycling, repurposing, and low-carbon refining, LOHUM's mission necessitates that we unlock verifiably accurate battery buy-back and material pricing. It is this unwavering commitment that led to the genesis of DETX™, a groundbreaking platform that brings together energy ecosystem stakeholders and enables them to make informed decisions based on transparent and traceable real-time pricing dynamics.
Transparency: The Cornerstone of DETX™
We firmly believe that all stakeholders in the energy ecosystem deserve to know the factors that influence battery prices and how they impact the overall market. DETX™ provides an unparalleled level of transparency by tracking current and historic prices of critical metals used in Li-ion battery manufacturing, as well as cell prices of various chemistries. By offering market benchmarks and comparisons of reuse and recycle prices against those available on exchanges, DETX™ empowers stakeholders to navigate the battery trading landscape with confidence and clarity.
Unveiling DETX™ - Battery Pricing Dynamics
Precise Pricing for Individual Batteries
DETX™ understands that each battery is unique and its value is determined by various factors such as battery health and cell chemistry. To provide a comprehensive understanding of each battery's worth, DETX™ offers a powerful dashboard that focuses on individual batteries. By considering current battery health parameters from the BMS and other relevant factors such as chemistry, the dashboard ensures precise pricing, enabling stakeholders to make informed decisions based on an accurate valuation.
The main parameters that reveal pricing in this version are battery health, impedance, and more via our proprietary lithium ion battery testing technology. Any historic data analysis or estimations are not required for this scale, as our testing process reveals all data points relevant to drive recycling and reuse decisions.
Efficiency at the Portfolio Level
Bulk transactions often present complexities and risks. DETX™ addresses this challenge by offering a portfolio-level dashboard that streamlines the pricing process for collections of batteries within a lot. With aggregated buy-back prices, stakeholders can simplify transactions and optimize their battery material trade. This efficiency enhances decision-making capabilities and promotes a seamless trading experience. At this level, we focus on the usage and age of the batteries in consideration. The following parameters play a key role in our accurate determination of the value of aggregated batteries:

Application: What kind of use-case has been allotted to the battery. The class of vehicles these batteries are deployed in affects output and also the life that remains after a certain point of time.

User: Here we look at whether the batteries are being used by a private or a public user. The batteries are handled differently in both cases, and this can significantly impact the value of the battery at certain ages. Private usage is more controlled than commercial, where batteries can experience drastic environments and tough operational conditions that may physically damage the battery.

Age: The age of a battery is ultimately what decides the amount of utility that is left in the pack. An average age of the lot can give us a clear idea on whether the batteries will be more valuable in reuse or recycle.
Transparency: Empowering Stakeholders
DETX™ is not merely a trading platform; it is a catalyst for a sustainable energy transition. By unveiling live battery pricing dynamics, DETX™ brings full transparency into the factors influencing prices, from battery health to critical metal costs. This level of insight allows stakeholders to gain a comprehensive understanding of the market and make informed decisions that maximize profitability and sustainability.
Simplicity: Streamlining Battery Material Trade
Gone are the days of invasive analysis and cumbersome processes. DETX™ simplifies battery material trade by offering seamless portfolio-level pricing. This streamlining of bulk transactions reduces complexities and risks, making the trading process more efficient and enabling stakeholders to focus on driving their sustainable energy initiatives forward.
Resilience: Navigating Market Volatility
The energy transition landscape is dynamic, and market fluctuations are inevitable. DETX™ equips stakeholders with the ability to navigate price volatility by monitoring component price movements in real time. Armed with this information, stakeholders can develop better pricing strategies and effectively manage risks, ensuring the longevity and resilience of their energy transition projects.
The latest version of DETX™ accounts for probabilistic errors in all calculation parameters. It also accounts for the variability that may occur in a portfolio of batteries with the same marked specifications, thus accounting for primary risks that may occur in the pricing based on categorical errors. This reduces market risk in prices overall.
Collaboration: Fostering a Fair and Efficient Trade
DETX™ serves as a reliable market standard, bringing together battery manufacturers, material companies, and stakeholders for accurate and verifiable trade. By fostering collaboration and promoting transparent transactions, DETX™ creates a level playing field that benefits the entire energy ecosystem. It paves the way for sustainable partnerships and drives collective progress toward a greener future.
DETX™ represents a paradigm shift in battery asset trading, enabling stakeholders to make informed decisions based on transparent pricing dynamics. By providing unprecedented insights into battery material trade, DETX™ empowers stakeholders to contribute to a greener future while maximizing the profitability of all their batteries at any stage of life.
Become an early-mover and insulate yourself against the price volatility of #BatteryMaterials with DETX™ – contact chetan.jain@lohum.com
Tune in to the LOHUM blog for more sustainability, battery energy, energy transition, circular economy, battery recycling and battery repurposing insights!
#DETX #EnergyTransition #BatteryTrading #Sustainability #Transparency
This entrepreneur wants India to make its own lithium-ion cells for electric vehicle batteries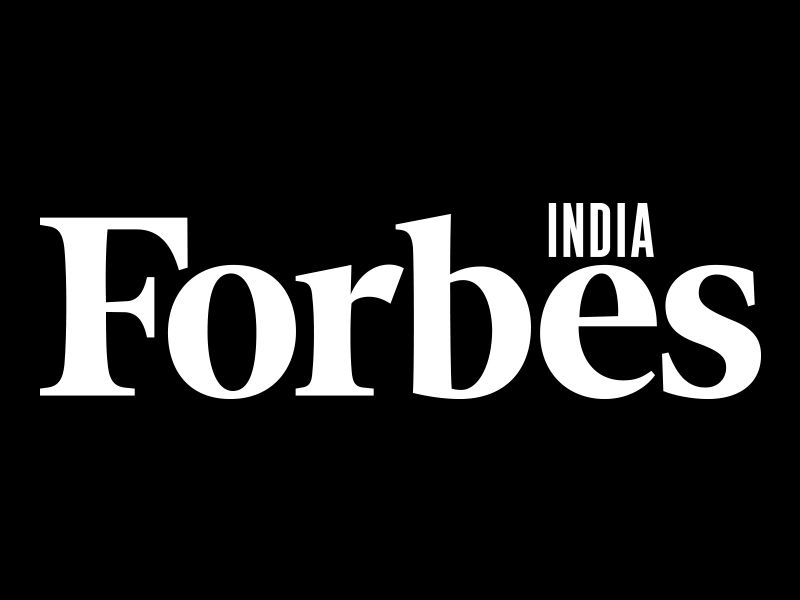 Rajat Verma already recovers raw materials from used cells at his venture, Lohum Cleantech. He wants to close the loop by making cells in India as well.
Feb 23, 2023
>
YOURSTORY AUTO STORY
India needs integrated recycling and repurposing battery business model: Rajat Verma of Lohum Cleantech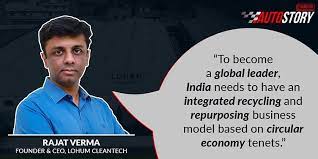 In an interaction with AutoStory, Rajat Verma, Founder and CEO of Lohum Cleantech, speaks about building his company, and about battery manufacturing and repurposing as an industry.
Mar 1, 2023
>
Business World Disrupt
Sourcing Raw Materials Is A Big Challenge In Li-ion Battery Space: Founder Lohum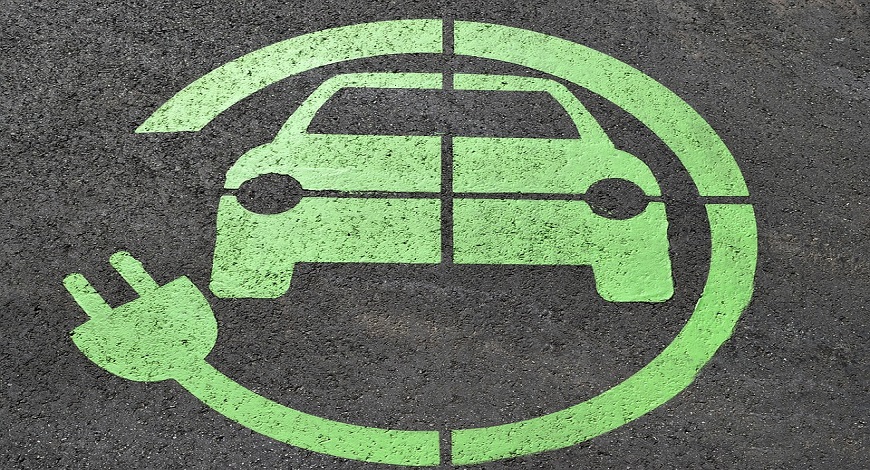 Recognized as 'The Most Innovative Company of the year 2022' by The Confederation of Indian Industry (CII), Lohum is a producer of sustainable Li-ion battery raw materials